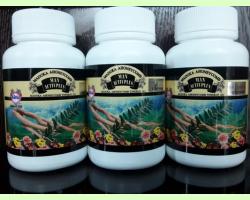 Tongkat Ali .100 capsule (350mg) (WM RM198.00) (EM RM200.00) (S$198.00)
SUPPLEMENTS FOR HEALTH


Tongkat Ali is being made from pure herbs and nutrients of pure natural plants. Special herbs are used, conforming to G.M.P. standard.
This product, if consumed for a long period, replenishes vital energy, builds a strong, healthy body, and also promotes youthfulness etc.
Ingredients: Tongkat Ali 100% Recommendations: 2-3 times daily, 2 capsules each time, dosage conform to personal needs.
This article is about the small Asian tree in the genus
Eurycoma
. For the tall Australian tree also known as "Long Jack", see Flindersia xanthoxyla.
Eurycoma longifolia
Scientific classification
Kingdom:

Plantae

Division:

Magnoliophyta

Class:

Magnoliopsida

Order:

Sapindales

Family:

Simaroubaceae

Genus:
Eurycoma
Species:
E. longifolia
Binomial name
Eurycoma longifolia
Jack[1]
Eurycoma longifolia (commonly called tongkat ali or pasak bumi) is a flowering plant in the family Simaroubaceae, native toIndonesia, Malaysia, and, to a lesser extent, Thailand, Vietnam, and Laos. It is also known under the names penawar pahit,penawar bias, bedara merah, bedara putih, lempedu pahit, payong ali, tongkat baginda, muntah bumi, petala bumi (all the above Malay); bidara laut (Indonesian); babi kurus (Javanese); cây bá bệnh (Vietnamese)[2] and tho nan (Laotian).[3] Many of the common names refer to the plant's medicinal use and extreme bitterness. "Penawar pahit" translates simply as "bitter charm" or "bitter medicine".[4] Older literature, such as a 1953 article in the Journal of Ecology, may cite only "penawar pahit" as the plant's common Malay name.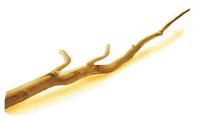 Growth
Eurycoma longifolia is a small, evergreen tree growing to 15 m (49 ft) tall with spirally arranged, pinnate leaves 20–40 cm (8–16 inches) long with 13–41 leaflets. The flowers are dioecious, with male and female flowers on different trees; they are produced in large panicles, each flower with 5–6 very small petals. The fruit is green ripening dark red, 1–2 cm long and 0.5–1 cm broad.[citation needed]
Biological effects
A 2010 ethnopharmacological inventory study on Eurycoma longifolia stated: "The plant parts have been traditionally used for its antimalarial, aphrodisiac, anti-diabetic, antimicrobial and antipyretic activities…"[6]
In an experiment conducted on male rats, it was found that Eurycoma longifolia increases sperm count. The authors also reported that the plasma testosterone level of Eurycoma longifolia extract treated rats "was significantly increased when compared with that of the control and infertile animals."[7] Another group of scientists confirmed that Eurycoma longifolia has the capacity to "reverse the inhibitory effects of estrogen on testosterone production and spermatogenesis."[8]
According to WebMD, while evidence suggest that one specific Eurycoma longifolia supplement might have some role in boosting sperm quality, there is insufficient evidence to rate it for any other claimed use including treatments for erectile dysfunction, low sex drive, cancer, malaria and tuberculosis.[9]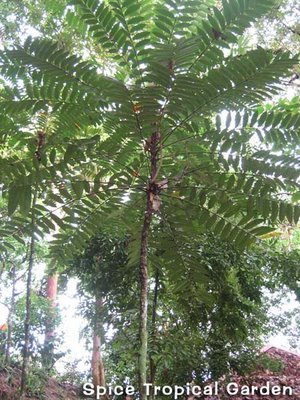 Products
In Malaysia, the common use of Eurycoma longifolia as a food and drink additive, coupled with a wide distribution of products using cheaper synthetic drugs in lieu of Eurycoma longifolia quassinoids, has led to the invention of an electronic tongue to determine the presence and concentration of genuine Eurycoma longifolia in products claiming to contain it.[10]
One extract has been co-patented by the government of Malaysia and the Massachusetts Institute of Technology.[11] However, the idea that products of nature on which there exists a large body of knowledge among indigenous peoples can be the subject of intellectual property rights, even of national governments, has long been challenged in peer-reviewed law journals.[12]
Quassinoids, the biologically active components of Eurycoma longifolia root,[13][14][15] are extremely bitter. They are named after quassin, the long-isolated bitter principle of thequassia tree. Quassin is regarded the bitterest substance in nature, 50 times more bitter than quinine.[16] Anything that isn't bitter, and strongly so, cannot contain quassinoids from Eurycoma longifolia.
In the US, the FDA has banned numerous products such as Libidus,[17] claiming to use Eurycoma longifolia as principal ingredient, but which instead are concoctions designed around illegal prescription drugs, or even worse, analogues of prescription drugs that have not even been tested for safety in humans, such as acetildenafil.[18] In February 2009, the FDA warned against almost 30 illegal sexual enhancement supplements,[19] but the names of these products change quicker than the FDA can investigate them. Libidus, for example, is now sold as Maxidus, still claiming Eurycoma longifolia (tongkat ali) as principal ingredient.[20]
The government of Malaysia has banned numerous fake products which use drugs like sildenafil citrate instead of tongkat ali in their capsules. To avoid being hurt by bad publicity on one product name, those who sell fake tongkat ali from Malaysia have resorted to using many different names for their wares.[21]
The governments of Canada and Singapore have issued warnings against the product XP Tongkat Ali Supreme for containing the prescription drug tadalafil which can be life-threatening in some individuals.[22]
Products claiming various Eurycoma longifolia extract ratios of 1:20, 1:50, 1:100, and 1:200 are sold. Traditionally Eurycoma longifolia is extracted with water and not ethanol. However, the use of selling Eurycoma longifolia extract based on extraction ratio may be confusing and is not easily verifiable however Eurycoma longifolia that is of the higher strength ratios tends to be darker in colour resembling a very dark brown at the 1:200 ratio.
In expectation of a competitive edge, some manufacturers are claiming standardization of their extract based on specific ingredients. Alleged standards / markers are theglycosaponin content (35–45%) and eurycomanone (>2%). While eurycomanone is one of many quassinoids in Eurycoma longifolia, saponins, known in ethnobotany primarily as fish poison[23][24] played no role in the academic research on the plant.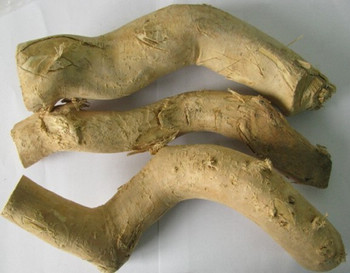 a. Malaysian researchers bet big on home-grown Viagra. Cyranoski D. Nature Medicine 2005 Sep;11¢Í£º912. PMID: 16145563
b. Sexual arousal in sexually sluggish old male rats after oral administration of Eurycoma longifolia Jack. Ang HH,Lee KL,Kiyoshi M. J Basic Clin Physiol Pharmacol. School of Pharmaceutical Sciences,University Science Malaysia,Minden,Penang,Malaysia. 2004;15£¨3-4£©£º303-9. PMID: 15803965
c. Eurycoma longifolia Jack enhances sexual motivation in middle-aged male mice. Ang HH,Lee KL,Kiyoshi M. J Basic Clin Physiol Pharmacol. 2003;14¢Ç£º301-8. PMID: 14964739
d. Effects of Eurycoma longifolia Jack on sexual qualities in middle aged male rats. Ang HH,Ngai TH,Tan TH. Phytomedicine. 2003;10£¨6-7£©£º590-3. PMID: 13678248
e. Effect of Eurycoma longifolia Jack on orientation activities in middle-aged male rats. Ang HH,Lee KL. Fundam Clin Pharmacol. 2002 Dec;16¢Ê£º479-83. PMID: 12685506
f. Effects of Eurycoma longifolia jack on laevator ani muscle in both uncastrated and testosterone-stimulated castrated intact male rats. Ang HH,Cheang HS. Arch Pharm Res. 2001 Oct;24¢É£º437-40. PMID: 11693547
g. Aphrodisiac evaluation in non-copulator male rats after chronic administration of Eurycoma longifolia Jack. Ang HH,Ngai TH,Fundam Clin Pharmacol. 2001 Aug;15¢È£º265-8. PMID: 11564133
h. Evaluation of the potency activity of aphrodisiac in Eurycoma longifolia Jack. Ang HH,Ikeda S,Gan EK. Phytother Res. 2001 Aug;15¢É£º435-6. PMID: 11507738
i. Phytochemicals and the breakthrough of traditional herbs in management of sexual dysfunctions. Adimoelja A. Int J Androl. 2000;23 Suppl 2:82-4. PMID: 10849504
j. Effects of Eurycoma longifolia Jack (Tongkat Ali) on the initiation of sexual performance of inexperienced castrated male rats. Ang HH,Cheang HS. Yusof AP. Exp Anim. 2000 Jan;49¢Å£º35-8. PMID: 10803359
k. Studies on the anxiolytic activity of Eurycoma longifolia Jack roots in mice. Ang HH,Cheang HS. Japan Journal of Pharmacology. 1999 Apr;79 ¢È£º497-500. PMID: 10361892
l. Eurycoma longifolia increases sexual motivation in sexually naive male rats. Ang HH,Sim MK. Arch Pharm Res. 1998 Dec;21¢Ê£º779-81. PMID: 9868556
m. Eurycoma longifolia JACK and orientation activities in sexually experienced male rats. Ang HH,Sim MKv. Biol Pharm Bull. 1998 Feb;21¢Æ£º153-5. PMID: 9514610
n. Eurycoma longifolia Jack enhances libido in sexually experienced male rats. Ang HH,Sim MK. Exp Anim. 1997 Oct;46¢È£º287-90. PMID: 9353636
Contains: 100 capsules ; 350mg per capsule
Storage: Avoid sunlight, high temperature & moisture.
Dilulus Oleh Kementerian Kesihatan Malaysia:
MAL 20001513T HALAL M 52424:2012 /109-07/2013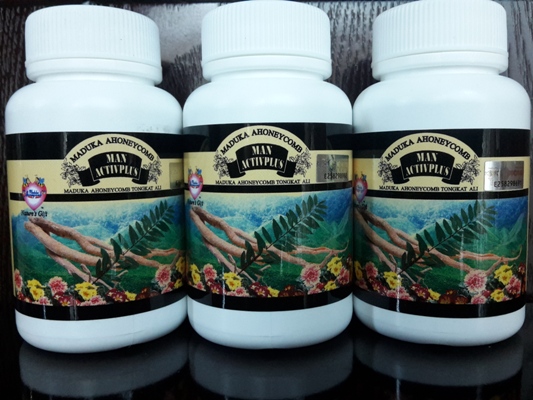 Price : MYR 198.00